Previous: Edit a Package



Reseller Hosting - Upgrade/DownGrade an Existing Account

Say you have an account created in your reseller account and it is nearing its resource limits or the client is unable to pay for their current amount of resources, or for whatever reason, the time may come when you need to change the package that the account is using. To do this, you can Upgrade or DownGrade the account to a different or modified package.



Upgrade/DownGrade from a Modified Package

If you have just modified a package and changed its resources or aspects and you want those changes to take affect on a selected account, you can use this Upgrade/DownGrade procedure to Upgrade/DownGrade the account to the same package. This will force the account to re-read its defined resource allocation.





To begin, first log into your WHM, if you have not already done so:



http://www.yourdomain.com/whm



Replace yourdomain.com with your domain name, the domain name associated with your reseller account.

Find the section labeled Account Functions in the left frame of your WHM:





And then find the link for Upgrade/Downgrade an Account:





OR

You can use the Find text box at the top of the left frame to find the Upgrade/DownGrade an Account link:





When you click the Upgrade/DownGrade an Account link the right frame will change to a page where you can define the package. First you will need to select the account that you want to upgrade:





You can select either the account's Domain Name or the account's Username, either will work. And selecting one should cause the system to automatically select the other.

Click on the Modify button near the bottom of the page to proceed.

Now you will be able to select a new package for the account or you can select the same package if you have modified the resources and aspects of that package.

The page will give you a list of your created packages that are available and it will also list the current package that the account is using: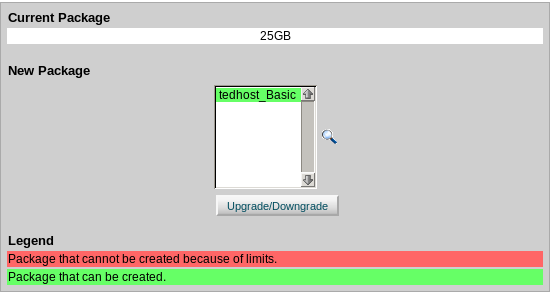 Simply select the desired package that you want the account Upgraded or DownGraded to.



Upgrade/DownGrade definition

The term Upgrade/DownGrade is used to mean "change the package for the account". Often times we will use the term Upgrade/DownGrade to basically mean change the account to a different or modified package. The change may be an increase resource allotment (an upgrade), a decrease resource allotment (a downgrade), or it could just simply be changing to a different package name with the exact same resource limits.



Click the Upgrade/DownGrade button to have the account upgraded or downgraded to the selected package.



Next: What is a Reseller Account?