Changing your password

One of the best things you can do in regards to securing your hosting account is to regularly change the password for your account. When you receive your hosting account welcome letter, it is always a good idea to go ahead and log into your account and change the password. This way, should someone come across your welcome letter, the login information listed in the welcome letter would not be valid. However, changing your password also raises some responsibilities. You need to be sure that you change your password to a good password and not something that is easy to guess. If an account is hacked into due to a poor password choice, then ultimately the account owner would be as much to blame for picking a poor password. This article will explain how to change the password for your account and how to choose a good password.

Most of our new accounts are using the new paper_lantern cPanel theme. Instructions for changing your password with paper_lantern are given below. Further down the page you will find instructions on changing the password of your account using the old orbit or x3 themes.

To begin, you will need to log into your account's control panel. This can be done by going to:



http://yourdomain.com/cpanel
or
http://youripaddress/cpanel




This information should be in your welcome letter when you sign up for a hosting package.

In the upper right hand corner you will see two buttons, one has your username and the other says Logout:





Clicking no your username will bring down a drop down list: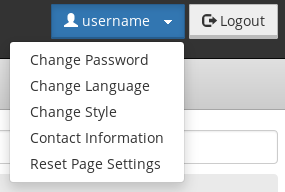 Click on Change Password. This will load a new page with a Password Change form:





Complete this form as instructed to change your password.





x3 or orbit Themes instructions

Locate the Change Password link in your control panel. It should be near the top by default under the heading Preferences. The icon will look like:





This will take you to a new page where you can update your password. The form will look like:





Notice that you have to provide the Old or Current password in order to change the password. This is the password that you just used to access the control panel.

The system now requires that password meet a certain standard. The aim of this feature is to limit easy to guess and easy to circumvent passwords. We have a lot of problems where users pick very simple passwords. Their accounts then get hacked into and they wonder why. You need to use strong passwords for everything that requires a password. This is to prevent hackers and other malicious users from gaining access to your account and doing damage to your account.

As you type in a New Password the system will run checks to insure that the password is strong enough.





Notice in this image that the password that has been entered is too weak. The background of the New Password field is a pinkish red and there is an exclamation image at the end of the text box. This is to tell you that the password you have entered has not met the criteria to be deemed a strong enough password. The Password Strength indicator tells you how strong your password is, the higher you can get this value the better.

Once you have entered a good strong password that is accepted by the system the background of the text field will turn white and the image will change to a green check mark.





Here you can see that the entered password has been determined to be strong enough and can be used.

Alternatively, you can use the Generate Password button which will bring up a new window where the server will automatically generate a good, strong password for you.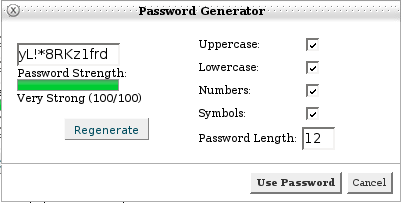 From here you can choose options for how you want the password to be generated, what characters to include, and the length of the password. The Password Strength indicator again tells you how strong the password is. You can use the Regenerate button to regenerate a new password. You can click this button multiple times until you see a password that you like.

When you have chosen a password that you like use the Use Password button which tells the page to use this generated password in the Change Password field. The resulting window will display your password so that you can copy it down for safe keeping.





Once you have the Change Password form completed the way you want it, click on the Change your password now! button and the server will change the password for your account to the new, updated password.

You now need to use this new password to log back into your control and for subsequent logins. It is a good idea to change your password regularly, in case a hacker does gain access to your password. If you change your password regularly, then a hacker would have to know your current password to gain access to your account.

If you forget your account's password, we can reset it for you. We cannot retrieve your current password, we can only set a new password for your account. To have us reset your password you will need to submit a support request and include the last four digits of the credit card number that is being used to pay for the account. We need this information so that we can verify that you are the owner of the account so that only the proper owner of the account can request a password reset.